What is All This About Jane Austen?
As Joseph Conrad wrote to H.G. Wells in 1901: "What is all this about Jane Austen? What is there in her? What is it all about?"
I have to concur with Mr. Conrad. What is behind all the interest and excitement attached to Jane Austen especially in the past twenty years? What has led her to become to many of us our favorite author? Was she always this famous?
Jane Austen's first published work came about in 1811 with Sense and Sensibility. At that time she was just about to turn 36 and would ultimately die only six years later. Not many people were reading her books during her lifetime as compared to now. The affluent were able to purchased her works. This included the Prince Regent, later to become King George IV, who requested that she dedicate her next novel to him (To him Emma was "respectfully dedicated."), The slim middle class could not afford to buy her books, but they did borrow them from the popular circulating libraries. Because of this, though not world renowned, she did even as now have an enthusiastic group of supporters.
Later her works were studied in colleges and sometimes high schools, without receiving the high acclaim of great popularity. During World War II there was a renewed interest in her books due to Hollywood's making of Pride and Prejudice in 1940 starring Greer Garson and Laurence Olivier. Films continued to be a driving forcing of interest in the novels. During the 1970's and 1980's, the English rediscovered their treasured Jane Austen. This can be seen in the many television mini-series created during this time: Persuasion (1971), Emma (1972), Pride and Prejudice (1980), Sense and Sensibility (1981), Mansfield Park (1983), and Northanger Abbey (1986).
But the real renaissance of Austen began in the mid-1990's. 1995 was a busy year for Austen fans. Emma Thompson starred and wrote the screenplay for Sense and Sensibility in 1995. (By the way, she won the Oscar and Golden Globe for said screen play.) Persuasion starring Amanda Root and Ciaran Hinds also appeared in 1995. And of course the BBC miniseries version of Pride and Prejudice starring Colin Firth and Jennifer Ehle also premiered in 1995. And I will have to throw this one in just for fun. Clueless starring Alicia Silverstone which was loosely based on Emma came to theaters in 1995 as well. Even People magazine admitted her notoriety when they included Jane Austen as one of the Most Intriguing People of 1995.
But it didn't end there. 1996 brought us not one but two versions of Emma. Kate Beckinsale and Mark Strong took the leads in the BBC version and Gwyneth Paltrow and Jeremy Northam presided in the Hollywood version. Both have their good and not so good points. But they both added to the building Austen frenzy. Then Mansfield Park came along a few years later in 1999 introducing us to Frances O'Connor.
And the good news is that the Austen movie making is still growing strong. A new film version of Pride and Prejudice released to theaters in 2005, this time starring Keira Knightley and Matthew Macfadyen. The British television channel ITV produced three films based on the Austen novels in 2007: Persuasion (starring Sally Hawking and Rupert Penry-Jones), Mansfield Park (with Billie Piper and Blake Ritson), and Northanger Abbey (Felicity Jones and JJ Fields) for which we have been awaiting a remake for twenty years. And the BBC gave us a mini-series of Sense and Sensibility in 2008. And dare I even mention the two Austen bio-pics, Becoming Jane (2007) and Miss Austen Regrets (2008)?
Jane Austen may not have been as famous as Shakespeare during her lifetime, but she now seems to be coming into her own. Her works have been translated into thirty-five languages and have never been out of print. (As an author myself, I can tell you, this is a great thing!) Besides all the films being made in dedication to her books, you can also buy the Pride and Prejudice board game, Jane Austen paper dolls, and a Jane Austen action figure. Even more interesting are all the contemporary novels being written to this day as spin offs to her original texts. Here is a list of just a few: Mr. Darcy Takes a Wife and Darcy and Elizabeth by Linda Berdoll, The Diary of Henry Fitzwilliam Darcy by Marjorie Fasman, Perfect Happiness by Rachel Billington, The Third Sister by Julia Barrett, Letters from Pemberley the First Year by Jane Dawkins, Mr. Darcy's Daughters by Elizabeth Aston, and The Jane Austen Mysteries by Stephanie Barron. My favorites are the 'Diary' books by Amanda Grange, the Mr. and Mrs. Darcy mysteries by Carrie Bebris, and especially the two Persasion novels by Susan Kaye.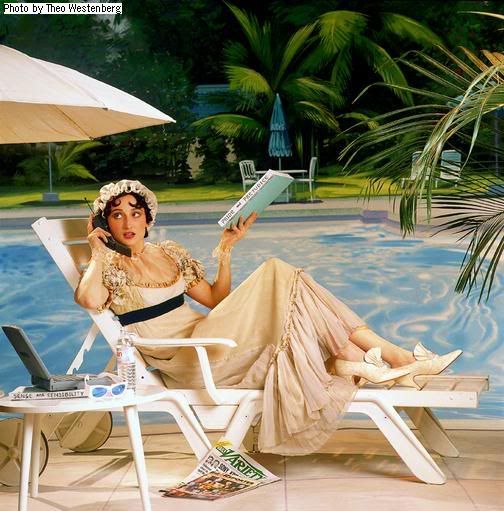 As an author, she may have had a slow start; but Jane Austen is a force to be reckoned with today. I only wonder what she might have said about all this notoriety. I mean, during her lifetime, she saw to it that her books were authored only by "A Lady." Put that together with what she wrote to James Clarke in 1815, "I think I may boast myself to be, with all possible vanity, the most unlearned and uninformed female who ever dared to be an authoress." I am sure in private she probably would have had some witty, insightful, and possibly even insulting remarks about the way the world has turned out over these past two hundred years. It's been a long time since someone came around who understood their society so well as to characterize them with as much humor, satire, and compassion. Maybe today we are ready for another such commentator. Maybe…but then again, maybe not.
Love classic literature like that of Jane Austen or a good sweet, historical romance? Then please stop by my website and read more about mine.
**********
Cindy K. Green is a multi-published author with degrees in History and Education. Previously a middle school English & History teacher, she now homeschools her own children and writes in several genres: Inspirational, Contemporary, Suspense, Fantasy and Historical romance. Find out more about Cindy and her books at www.cindykgreen.com and http://cindykgreen.blogspot.com/. To join her newsletter email her at  newsletters@cindykgreen.com, and she will send you out all three parts of her FREE READ serial,  "Valentine's Challenge."