The Viper by JR Ward Review
TeriC gives THE VIPER 4 Hearts! JR Ward is phenomenal, as always…
THE VIPER is a story of absolution and vindication. After Kane was unjustly accused of murdering his shellan (mate) he is imprisoned for hundreds of years—along with the many who didn't do anything besides offend some of the Glymera (pure blood aristocracy.) His character is one of honor and chivalry, which he appears to maintain while imprisoned in this clandestine Prison created by the Glymera. Then he meets Nadya, who makes him feel valued and cared for. Sadly, they often meet during the times Nadya has to care for Kane, as he's in pain during their sessions when she's tending him…
---
Author

J.R. Ward

Release Date

September 20, 2022

Publisher

Gallery Books

ISBN/ASIN

B09RX42VS1

Our Rating

 ♥♥♥♥

Reviewed by

TeriC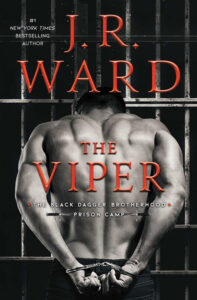 Warning—If you haven't read the Black Dagger Brotherhood (BDB) books, don't start with this one. This story could be a bit confusing as there are references to multiple characters from the BDB world.
THE VIPER is a story of absolution and vindication. After Kane was unjustly accused of murdering his shellan (mate) he is imprisoned for hundreds of years—along with the many who didn't do anything besides offend some of the Glymera (pure blood aristocracy.) His character is one of honor and chivalry, which he appears to maintain while imprisoned in this clandestine Prison created by the Glymera. Then he meets Nadya, who makes him feel valued and cared for. Sadly, they often meet during the times Nadya has to care for Kane, as he's in pain during their sessions when she's tending him.
Nadya, who has her own reason for being in the prison, had been taught how to nurse the sick and give care and comfort to those within the prison walls. She is a shining example of what the Glymera like to preach but never actually do. Her character is one of love, comfort, and honor.  I was actually surprised with some very real human emotions she acted on—which you will need to read about in the story.
I enjoyed reading THE VIPER and getting to know Kane and Nadya. They found each other in extremely stressful conditions, and their love thrived and bloomed despite that. I thought the character building continued from the other books into this one, and I'll be going back to buy the previous two books as I had not read them.
J.R.Ward is a phenomenal writer, and this book was what I expected of her. If you haven't read her work before, you definitely need to give her a try as she packs some heat along with characters you come to love in situations which make the story rich with action and funny with characters from the Black Dagger Brotherhood (BDB) world.
Viper is book 3 in the BDB Prison Camp series. Since I didn't read the first two books, I had to infer a few references made with this review.