The Omegas, is that a vitamin?
No, they're fatty acids.
Is my book about health?
 Only if a sexy vampire is part of the food groups.
 Daedalus is the best hero I've written. Not beautiful by modern standards yet self-assured and sexy. His confidence and charm draw those to him. A man's man, loving fast cars, faster women, and football,  finds himself drawn to a small pack werewolves called The Omegas. Pansies of the paranormal, these werewolves are leaderless and happy this way until a large local pack decides they want to absorb them. What would happen to these kind heart geeks of the underworld? Not all packs are good and nurturing. Sugar, their neighbor, wants them to run but the Omegas are determined to defend the life they've built. Who knew such a conflict would draw two very different people together.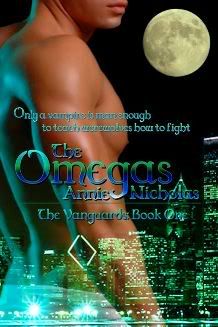 Only a vampire is man enough to teach werewolves how to fight. BLURB:Pretty librarian Sugar wants her life to stay quiet. That's hard enough when friends and neighbors turn into furry wolves every full moon. But when a hot vampire gets involved, life's bound to get complicated. The Omegas have always been the pansies of the paranormal. Now Chicago's top werewolf pack has issued them a life or death challenge. Their only option: hire a vampire warrior to teach them the moves. Daedalus has been a powerful vampire for ages. Intrigued by the chance to train the geeks of the underworld, he wasn't bargaining on losing his heart to a human. Can he make the Omegas a success, fit into Sugar's quiet life, and avoid being ripped to shreds in the process? BUY NOW
Excerpt:
Sugar retreated further until she bumped against the cool metal of her fridge. She'd been disappointed to find only Daedalus at her door but didn't regret his presence one bit now. His tight, black t-shirt outlined every hard, scrumptious detail of his chest. Lust awakened. An urge to splay her hands on his delicious body, kneading those hard muscles, gripped her.With each sinuous step he closed in on her until she found herself cornered. His body inspired all kinds of naughty ideas. She'd love to pour massage oil on his smooth head and let it drip down his naked body, so she could rub it all over him."I've been thinking about you." His husky voice brushed along her skin. Caged between his arms against the fridge, she felt trapped. Her heart raced with expectation, and she tried to moisten her suddenly dry lips by pressing them together.He leaned in until his face almost touched hers. Yearning replaced his mischievous grin. His eyes feasted on her as they traced along her face to focus on her mouth."You have?" She wanted to drown in his half-lidded gaze."Haven't you thought of me, Sugar?"The way he spoke her name, like it tasted good, sent a thrill down her spine. Every single night he invaded her thoughts, starring in all her fantasies, but she couldn't admit that to him. Even though he'd openly admired her, the desire he now displayed amazed her. She was a librarian, not some porn star, though his actions made her feel like one. "You've been on my mind once or twice."Almost touching her, he denied her a kiss. Their lips were close enough for her to sense their movement when he spoke. "What will I do to entertain myself while your friends are gone?" The wait for his embrace made her burn with feral passion. It grew too much. She laid a gentle kiss on his mouth in sweet surrender. A bare touch."I could think of a few things." Who was this bold woman using her voice? Her curiosity for him made her brave enough to lose all her discretion.ANNIE NICHOLAS
www.annienicholas.blogspot.com