The Lady Has a Past by Amanda Quick Review
Romance Junkies gives A LADY WITH A PAST by Amanda Quick 4.5 Hearts!
A historical romantic suspense that truly delivers, A LADY WITH A PAST is an engaging thrill ride from NYT bestseller Amanda Quick.
Read on for SJ's review and an excerpt from the book!
---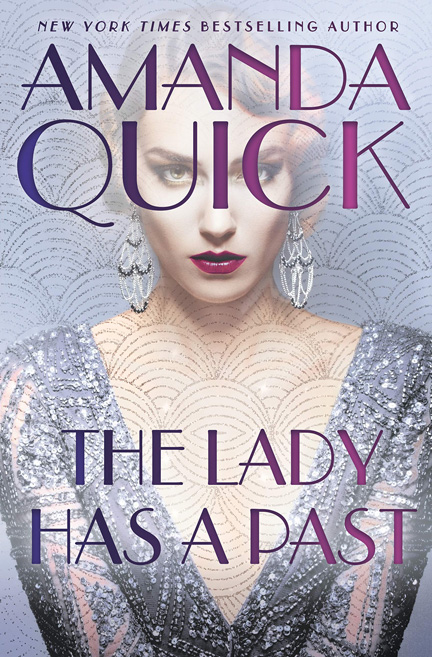 A historical romantic suspense that truly delivers, A LADY WITH A PAST is an engaging thrill ride from NYT bestseller Amanda Quick.
Lyra Brazier has just moved to Burning Cove, CA, and is an apprentice investigator to the enigmatic Raina Kirk. Raina has taken a chance on her, and Lyra is both glad and determined to do her best. But when her boss goes missing, Lyra finds that the investigative business is a lot tougher than she thought.
Raina's lover, a mysterious man with supposed ties to the underground, insists she take Simon Cage with her to find out what happened to Raina. So Lyra and Simon follow Raina's steps and go undercover at a resort and spa that is much more than it seems.
The pacing is terrific and the suspense intriguing as Lyra and Simon work together to find out what happened to Raina. Why have so many people gone missing? What did Raina intend to solve when she went to the spa? And how is Simon, a calm, mild-mannered, antiquarian book dealer so very good at confronting danger? Just who is this man who makes her heart race and can sense what normal people can't?
There's a hint of paranormal activity in THE LADY HAS A PAST, which only serves to heighten the action. Amanda Quick returns to the world of the glittering 20s and old glam Hollywood with this thrilling mystery that's at turns romantic, adventurous, and mysterious. Don't miss out! This is a killer of a great book!
Excerpt:
I should let her go, Raina thought. For her own good. There was an unmistakable aura of naiveté and cheerful innocence about Lyra. The private investigation business was not a good career choice for the naïve and the innocent.
But one thing stopped her from firing Lyra on the spot. Yes, a madman had tried to murder her that day but she had fought off her attacker with a golf club and she had saved herself and the client. She also understood that she had been used. She was no longer quite so naïve or so innocent. She was learning fast.
"You're right," Raina said. "Marcella Adlington was certainly very specific about the time of the appointment this afternoon. She was not dressed for swimming or sunbathing yet she insisted you meet her poolside."
Lyra swung around, hazel eyes sharp and clear. "She had a gun hidden in a stack of towels. The fact that Charles Adlington was dressed for swimming indicates that his presence at the scene was not a surprise to his wife."
"I agree."
"I found out later that his car was parked in the garage. He had been there for a while. She must have told him she planned to hire a private investigator to try to get him committed again because when he realized I was there he stopped trying to drown her and came after me."
 "If Marcella had shot her husband without any obvious reason she would have been arrested for murder. She needed a witness and a believable explanation for pulling the trigger. She told him she was expecting an investigator because she knew he would fly into a rage when he saw you. That would give her the excuse to kill him. She would be the heroine of the situation because she stopped her husband from murdering you. She certainly would not have been arrested in those circumstances and her terrifying husband would be safely dead."
Lyra began to pace the room. "But things went wrong. He turned on her first."
"If you hadn't arrived when you did she would have died. You saved her life when you used that golf club on Adlington."
Lyra stopped in the middle of the room. "But suddenly Marcella was faced with an unplanned scenario. The whole point was to make sure she got rid of her husband but she wasn't sure that Adlington was dead. Neither of us could tell if he was alive and we didn't dare get close enough to check for a pulse."
"So when you went around the house to greet Detective Brandon, Marcella picked up the golf club and made certain that her husband would not survive."
Lyra nodded slowly. "Yes, that is exactly what happened. I don't believe Marcella ever intended to hire Kirk Investigations. She just wanted her husband dead."
Raina sighed. "Welcome to my world. Rule number one is always assume the client is lying or, at the very least, not telling you the whole truth. Everyone has secrets to protect."
"Right. I'll remember that."
Raina sat forward and clasped her hands on the desktop. "Are you sure you want to be a private investigator?"
"Please don't fire me because of what happened today."
Raina raised her brows. "I'm not going to let you go because of that. After all, you saved the client–."
"Non-client."
"You saved the non-client and yourself. You exhibited remarkably sharp thinking under extraordinarily dangerous circumstances. I am very impressed with your golf swing, by the way."
Lyra's jaw tightened. Shadows veiled her eyes. She turned away and went back to the window.
"What bothers me is that I'll never know," she said quietly.
"Never know what?" Raina asked.
"If I'm the one who killed Charles Adlington. I only struck him once, Raina, but I hit him very hard. There was a lot of blood. But Marcella Adlington hit him several more times."
Raina tried and failed to come up with a comforting response. She said the only words she knew to be true.
"You did what you had to do to save yourself and Marcella Adlington," she said. "That's all that matters. There are always unanswered questions in this business. Fact of life. You have the makings of a good investigator but I believe you should give your career plans some serious thought before you decide if you want to stay with this firm."
Lyra folded her arms. "Okay."
"And now we are going to follow a long-standing tradition in this business."
Lyra gave her a wan smile. "What's that?"
"We're going to celebrate."
Lyra looked bemused. "What are we celebrating?"
"How about the fact that you and Marcella Adlington both survived?"
Lyra took a deep breath. "You're right. That is definitely something worth celebrating."
"This evening you and I will go out on the town. We will start with cocktails and dinner at the Burning Cove Hotel and then we will catch a cab to the hottest nightclub in town, the Paradise."
---
Author

Amanda Quick

Release Date

May 4, 2021

Publisher

Berkley

ISBN/ASIN

978-1984806888

Our Rating

Reviewed by

SJ