Suspense? Romance? What's your preference?
Thanks to the Romance Junkies for having me here today!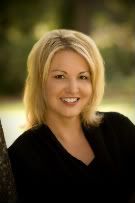 For those of you who don't know me, I write romantic suspense for Dorchester. My debut book, STOLEN FURY, released in January 2009 and got a fabulous five ribbon review from the Junkies. The second book in the Stolen Trilogy, STOLEN HEAT, hits store shelves next Tuesday, July 28, 2009, and I'm eagerly awaiting the release of this next book. 
My books have been compared to Romancing the Stone and Indiana Jones. I consider myself a throw-back to the old style of RS – when it wasn't so much about forensics and chasing a killer in order to solve a crime as it was about running for your life, being involved in an adventure, taking a chance on something you never planned to take a chance on. I fell in love with Nora's early RS's like Hot Ice, Elizabeth Lowell's Donovan family (Amber Beach, Jade Island, Pearl Cove…) and Judith McNaught's Perfect. And I knew those were the style of books I wanted to write. The style that isn't around so much anymore in this era of dark and gritty serial killer romantic suspense.
In STOLEN HEAT, Pete and Kat aren't trying to solve a crime, not at first anyway. They're just trying to stay alive. But circumstances thrust them back together after six years, and the only path to freedom for either one is to find a way to work together: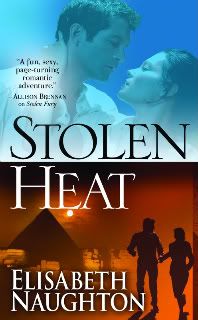 His past tore them apart. Her lies thrust them back together. Now a killer's out for revenge, but the biggest threat for both may just be the heat they thought they'd already lost….
Antiquities dealer Peter Kauffman walked a fine line between clean and corrupt for years. And then he met the woman who changed his life—Egyptologist Katherine Meyer. Their love affair burned white-hot in Egypt, until the day Pete's lies and half-truths caught up with him. After that, their relationship imploded, Kat walked out, and before Pete could find her to make things right, he heard she'd died in a car bomb.
Six years later, the woman Pete thought he'd lost for good is suddenly back. The lies this time aren't just his, though. The only way he and Kat will find the truth and evade a killer out for revenge is to work together—as long as they don't find themselves burned by the heat each thought was stolen long ago…
The one thing I love about romantic suspense is that it forces two people together in extreme circumstances. You realize what's really important in life when it comes down to the basics, and that's what happens for my characters. My books are equally weighted on the romance and the suspense. Take one away and the book falls flat. In STOLEN HEAT, it's the suspense that draws these two back together, but it's the romance that keeps them there when things get hot.
I'd love to get your opinion on RS. What type do you like to read? Equally balanced suspense/romance, heavier on one or the other? And what kind of RSs would you like to see more of on the market?
Thanks so much for having me here today. For those that are interested, in anticipation of the release of STOLEN HEAT I have BIG contest going on at my website. Enter the drawing and you could win a $100 VISA giftcard, plus a whole host of daily prizes! Go to www.elisabethnaughton.com/stolen_heat_contest.html to enter!!