Caffeine addict, boy referee, and romance aficionado, New York Times and USA Today bestselling author Marie Harte has over 100 books published with more constantly on the way. She's a confessed bibliophile and devotee of action movies. Whether hiking in Central Oregon, biking around town, or hanging at the local tea shop, she's constantly plotting to give everyone a happily ever after. Visit http://marieharte.com and fall in love.
Marie has over ten different series to choose from. Her most recent release is TEST DRIVE, the first in the Body Shop Bad Boys series.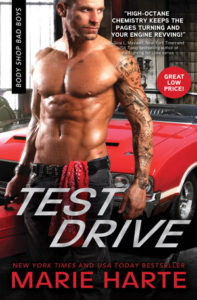 Rough and tumble bad boy mechanics
Living fast and loving hard
Johnny Devlin's a charmer with a checkered past. He has had his eye on scorching-hot bartender Lara Valley for ages, but she's rejected him more than once. That doesn't mean he won't come to her aid when some dirtbag mauls her. When she asks him on a date as a no-strings-attached thank you, he can't say no.
And then he's saying nothing but hell, yes.

Body Shop Bad Boys Series:
Test Drive (Book 1)
Roadside Assistance (Book 2)
Zero to Sixty (Book 3)
Praise for Marie Harte's McCauley Brothers Series:
"Packed with sass, sensuality and heartwarming emotion…an absolute delight!" –Romance Junkies for What to Do with a Bad Boy
"Funny, addicting, and full of hot sex scenes." –Booklist for How to Handle a Heartbreaker
And her next release comes out in September: Roadside Assistance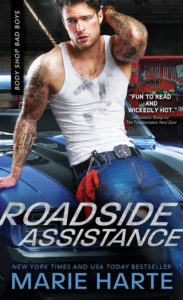 Don't miss Foley's story. Here's a snippet
The door chime jingled, and he walked in, looking too damn fine. The flush on his cheeks and sparkle in his eyes only enhanced his rugged good looks.
Before Cyn could think of what to say to him other than Thanks and Get the hell out before I forget myself, Nina handed him a hot cocoa.
"On the house." Nina smiled.
Sanders accepted it with thanks. "This is just what I needed. It's getting really cold out there."
"But no snow yet?"
"No." He took a sip, his gaze resting on Cyn. "But if it does and ices over, tomorrow won't be pleasant."
"That's for sure. But we'll be open. Someone's got to feed and caffeinate the masses." Nina said something else while Cyn rang up a waiting customer.
Sanders continued to stand off to the side by the counter, making small talk with Nina about his fellow mechanics.
Without anyone else to wait on, Cyn decided to be the bigger person—no pun intended—and nodded to the man. "Thanks for moving the cars."
"No problem. I'm sorry they were there to begin with."
He sounded sincere, and she'd been taught to forgive those who truly wished for forgiveness. But she refused to apologize again for her justly given tirade. Maybe if he thought she was mean, he'd leave her alone. She only had only so much willpower, and her heart hadn't mended from her last live-in disappointment, even eight months after the fact. She'd wasted two years on the man, only to have her relationship collapse on itself because Jon hadn't accepted that she was always going to be a bigger girl, and that she was okay with her size. Well, mostly okay with it.
"Have a nice weekend." She turned and headed to bus a few tables.
A large shadow followed her.
She swallowed a testy retort and instead used her polite voice. "Um, can I help you with something?" When he said nothing, she turned to see him staring at her.
Okay, rudeness justified a like response.
"Well?" she snapped, her heart racing at the slow start of his panty-melting grin.
"Would you like to have dinner with me sometime?"
She buried her biological hell yes with a realistic no. Guys this hot wanted only one thing, then went on their merry way. "Thanks, but no." Most men would leave it at that.
"Why not?" He took another sip of cocoa, his gaze unwavering.
She swallowed a smirk at his persistence, because he'd proven her instincts right. Foley Sanders did not like to lose.
To read more, check out Marie's website