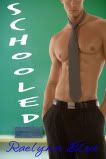 School is about to begin… 
Hola! I'm RaeLynn Blue. I write erotic interracial romance. I write in  a variety of subgenres, including science fiction, fantasy and paranormal/urban fantasy. SCHOOLED is a contemporary romance and I've enjoyed writing about ordinary people falling in love. Like my previous titles, Something Deeper and Thelma's Eatery, SCHOOLED deals with working, middle class people. SCHOOLED is available today from Phaze. As a school teacher, I had a lot of fun writing SCHOOLED. The story is set in a school of course and the heroine is Harper Perry, a language arts teacher at a middle school. Her most terrible and out of control student, Scott Pearson, drives up her stress levels. But his father, well, he drove up her libido level! I am a teacher and have taught school for eight years. I'm going into my ninth year of teaching and find the career challenging and more than a bit rewarding. Like Harper, the heroine in SCHOOLED, I've had my share of difficult parents, but I've never had a parent quite like Nathaniel Pearson! If I had, it would be a really awesome job perk!
Here's a short blurb about SCHOOLED. Harper Perry was a veteran teacher. For ten years, she had attended Parent/Teacher Conferences with dread in her heart and a smile plastered on her face. The last thing she expected was the instant attraction to none other than her most problematic student's father. Nathaniel Pearson had tried to be a good dad, even when circumstances had torn him out of his child's life. Now he was back and determined to do right by his son. He had the best intentions when he walked determinately into the school gym to meet Scott's teacher. The last thing in the world he expected was to be SCHOOLED in the ways of love.
 I'd love to know what you think of romances that deal with middle class folks! I also am interested in what you think about interracial romance. Feel free to post your comments below this blog and/or at my group, The Color of Love.  For excerpt an excerpt of SCHOOLED, visit Phaze. 
But now it's time for the RJ Blog Contest! This contest ends at 11:59 EST today, July 27th.
Contest for blog readers: 
If you are reading this RJ blog, here's your contest. Email me, RaeLynn Blue at raelynnblue@msn.com and tell me one sexy thing about a teacher you had in school. Be sure to put RJ Blog contest in the story line and tell me about a time you were hot for teacher!
Thank you, Romance Junkies for letting me post today. Don't forget to grab a copy of SCHOOLED and enter the contest!
Best,
RaeLynn Blue