Reading, Writing, and the Pandemic by Harley Wylde, author of DEMON
Reading, writing, and the pandemic…
COVID-19 changed the world as we know it. For some, it gave them more time to read or write. Others were laid off and struggled to get by. When it became apparent this nasty virus wasn't going anywhere anytime soon, the number of authors who offered free and $0.99 discounted books increased exponentially. They wanted to give back to the community and give people a way to escape reality for a while. Some offered their books through Kindle Unlimited, while others put more books in subscription services like Scribd or Kobo Plus. It always amazes me just how wonderful the writing and reading community can be during times like these.
---
Right around the time COVID-19 made itself known, I launched a new series – Devil's Fury MC. Well, sort of new. The characters have popped up in my other series for a few years now, and one of them – Badger, even got his own book in the Roosters multi-author series at Changeling Press. Needless to say, when I planned to launch the series, no one knew about COVID-19 nor the impact it would have on the world. I didn't let it deter me and moved forward as planned. It was time for the men of Devil's Fury to have the spotlight.
Demon, book 6, released today at online retailers and last week at Changeling Press. As with the other books in the Devil's Fury series, Demon is an age-gap MC romance with suspense, hot sex, and action – not to mention an alpha male who goes after what he wants.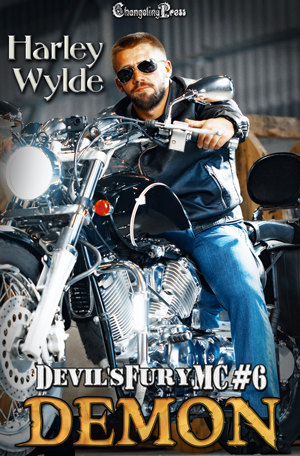 Farrah — I've spent my entire life at the Dixie Reapers MC compound — one of the perks of being the VP's daughter. Except it's suffocating. Leaving to start a life of my own was the only solution. I knew what it would mean if I went to the Devil's Fury MC compound, even more so to flirt with their Sergeant-at-Arms. Getting involved would ruin the little bit of freedom I've found. Then I ended up in the man's bed. Leave it to me to find trouble around every corner. My daddy is going to be so pissed, especially when I run from Demon, get snatched off the streets, and shoved into a trunk. I'm not winning at the adulting thing.
Demon — She was a one-night stand. Until the condom broke. Then I found out she'd lied to me. The hot little number in my bed wasn't just any woman, she was the daughter of a Dixie Reaper. Maybe I shouldn't have barked orders at her, or spanked her. Feisty little Farrah ran, pissing me off even more. When she disappeared and I realized trouble had found her, I knew I'd do whatever it took to make sure she was safe. Only after I had her back did I realize she was f***ing perfect for me. Watching her handle the club wh**es was hot as hell, and she didn't take s**t off anyone.
I'll make her mine — permanently.
WARNING: Demon's book contains graphic violence and sex, bondage, spanking, bad language, and scenes that may be difficult for some readers. But it also has a heroic dog and a man who will move heaven and earth to protect the feisty, smart-mouthed woman he loves. There's no cliffhanger and a guaranteed happily-ever-after.
Want to read a sneak peek?
All rights reserved.
Copyright ©2020 Harley Wylde
The moment I heard the shower running I grabbed my dress and pulled it over my head. I snatched my shoes from the floor and tiptoed out of the room. Every muscle in my body clenched tight as I approached the front door, worried he'd discover I wasn't where he'd left me. If Demon didn't want me to leave, there wouldn't be much I could do to stop him. He was so much larger than me. I made it outside, put on my shoes, and practically ran for my truck. I huffed and puffed by the time I reached the clubhouse and jumped into the cab of my pickup. I jammed the key into the ignition and started it up, then my tires spit gravel as I backed out and barreled toward the gate.
The poor Prospect didn't have a choice but to let me out. It was either open the gate, or I'd have gone straight through it. Tears trickled down my cheeks as I headed for the motel. I'd been so stupid. Letting him take my virginity was one thing. I should have left it there and walked out, but no, I'd let him tempt me into more.
Stupid. Stupid. Stupid.
"Way to go, Farrah. First taste of freedom and you possibly get knocked up by a Neanderthal biker," I griped to myself. I'd been around the type my entire life and knew better. Why I'd thought Demon would be different wasn't something I'd figure out anytime soon.
Want more of Demon and Farrah?  You can get the book here: https://books2read.com/DemonDFMC
---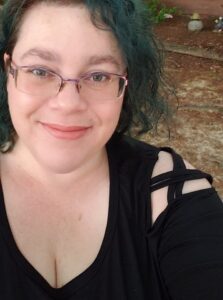 Harley Wylde is the International Bestselling Author of the Dixie Reapers MC, Devil's Boneyard MC, and Hades Abyss MC series.
When Harley's writing, her motto is the hotter the better — off the charts sex, commanding men, and the women who can't deny them. If you want men who talk dirty, are sexy as hell, and take what they want, then you've come to the right place. She doesn't shy away from the dangers and nastiness in the world, bringing those realities to the pages of her books, but always gives her characters a happily-ever-after and makes sure the bad guys get what they deserve.
 The times Harley isn't writing, she's thinking up naughty things to do to her husband, drinking copious amounts of Starbucks, and reading. She loves to read and devours a book a day, sometimes more. She's also fond of TV shows and movies from the 1980's, as well as paranormal shows from the 1990's to today, even though she'd much rather be reading or writing. 
 You can find out more about Harley or enter her monthly giveaway on her website. Be sure to join her newsletter while you're there to learn more about discounts, signing events, and other goodies!