Queen Victoria: Mother of Morality or Wild Party Girl?
Hi – Allison Chase here, and I'll be giving away a book today so read on…
Did I get your attention with that title? You might think you know the answer, but one thing I learned when I started researching my new Victorian series, Her Majesty's Secret Servants, was that I had a lot of wrong ideas about the woman who named the age that spanned the better part of a century.
So the simple answer is – Party Girl! But, ok, maybe not so wild, at least not by today's standards. And it wasn't as if you'd ever find her down at the corner pub hefting tankards and singing bawdy songs with the local rabble. But after a childhood spent entirely under her mother's thumb and without a real friend to speak of, 18-year old Victoria was ready to let down her hair a bit once she hopped onto that throne.
For one thing, the lady liked to dance. So much so that many a palace soiree ran long into the wee hours of the night, so late many of her courtiers – most of whom were much older than she was – were hard-pressed to stifle their yawns. Can you imagine trying to keep up with your own teenaged kids? I certainly can't anymore!
And when it came time to marry, spirited V quickly debunked a couple of other Victorian myths. First of all, she married for true love, something we don't think of much when it comes to the aristocracy. But while he was a prince, Albert didn't have much to recommend him when it came to state alliances. Nope, he was pretty much considered an impoverished foreign upstart who had no business at the sides of Englands plucky little queen. But cupid's arrow had struck, and Victoria would not be dissuaded. Which leads me to debuked myth number two: that Victorian women simply did not enjoy, ahem, activities of the intimiate kind.
Wrong! Maybe it was because Victoria was so enamored of her husband, but this was one young missus who left notions of  "enduring one's wifely duties" well outside the bedroom door. Yes, she enjoyed sex! Bravo for her! Except there WAS one teensy problem – she was not as enthusiastic about the RESULTS of sex! Children, especially babies and toddlers, were not high on Her Majesty's list of favorite things. The biggest drawback of having them around, in her opinion, was that they robbed her of time that could better have been spent with her beloved Albert. Kind of a Catch-22, isn't it? 🙂
So, where DID all those so-called Victorian family values come from? Albert, actually. The poor dear had been the product of a broken home and was determined not to repeat his parents' scandalous mistakes (yup, both dad AND mom indulged their carnal appetites). It was Albert who initiated the truce between Victoria and her mother, who might have found herself out on her royal you know what if Victoria had had her way. But the Duchess of Kent was family, and Albert must have realized that if his own children were going to have any grandparent at all, she was it.
If our intrepid young Victoria was a tad excitable and erratic at times, it was Albert's steadying influence that calmed her down and helped her focus. With him around, those soirees ended at a much more reasonable hour, and smitten V was only too happy to retire with him to their private chambers. In Albert, Victoria had found a friend, a soul mate, and yes, her passion.
I still can't help wishing she'd had a friend or two while growing up, though…
That's why in MOST EAGERLY YOURS (which releases today!!) I gave Victoria the childhood friends she never had, four sisters who, as adults, become Her Majesty's Secret Servants, willing to risk their lives, hearts, and occasionally even their virture in service to their young queen.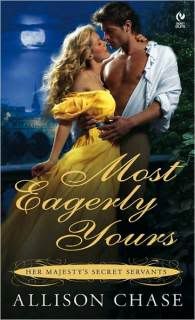 Laurel, the eldest, is the first to be called. The Queen is threatened by her jealous cousin, George Fitzclarence, who is known for speaking treason. She asks Laurel to pose as a wealthy widow and use her charms to win George's trust, then find out what he is really plotting. Laurel is prepared for the risks of acting a part, but she encounters an unexpected and formidable obstacle in the Earl of Barenforth–George's friend and a notorious rake, whom Victoria has warned her to avoid…
An undercover agent for the Home Office, Aidan Phillips, Earl of Barensforth, is on the trail of a financial hoax involving alchemy, murder…and George Fitzclarence. When a lovely young widow wanders into his path and turns his well-laid plans on end, he senses she is hiding something. Aidan is no stranger to seduction, or to the wiles of beautiful women. And he intends employing wiles of his own to uncover the lady's secrets…
To celebrate today's release, I will give away a copy of MOST EAGERLY YOURS to one randomly chosen commenter. Did you ever have a secret friend, real or imagined? Who was it, and were they always there for you, ready to listen or give a hug – or walk through fire for you if necessary? Check back at the end of the week when I'll post the winner in the comments section of this post.
You can also visit my website for details on how to enter to win a Victorian-inspired necklace!
Cheers!
Allison Chase
www.allisonchase.com
www.allisonchase.wordpress.com