Loving a Wild Stranger by Kelli A. Wilkins—Behind the Scenes
Comments Off

on Loving a Wild Stranger by Kelli A. Wilkins—Behind the Scenes
Loving a Wild Stranger by Kelli A. Wilkins, Behind the Scenes!
This "Behind the Scenes" blog is part of a series examining my romance novels. In each blog, I'll talk about why I wrote the book, share my thoughts on the plot and/or characters, and reveal what I loved most (or least) about writing the book. Warning: Blogs may contain spoilers.
---
Behind the Scenes: Loving a Wild Stranger (A Historical Romance)
By Kelli A. Wilkins
Hi everyone,
Loving a Wild Stranger is one of my favorite romance novels… it's also the first romance novel I ever wrote. A long time ago when I was taking writing classes, I told my instructor that an idea for a story had popped into my head, but I didn't know what to do with it. I was writing short horror fiction at the time, and the idea wasn't a horror story.
The premise seemed simple: a young woman runs away from home and impersonates a stranger's mail order bride. My writing teacher said, "That's a romance. Write it and see what happens."
So I wrote the book… and discovered I liked writing romances (and I was pretty good at it). From there, other romance ideas came to me, and I wrote those books, too. That's how my romance-writing career began. All from one idea.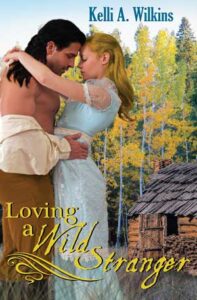 One of the things that inspired me to write Loving a Wild Stranger was the interaction between the characters, Luther and Michelle. They come from very different backgrounds and at first don't get along at all. Michelle is an independent, outspoken young woman used to getting her way in the "civilized" world, and Luther is a lonely "mountain man" looking for love.
As you can imagine, they clash over the course of the story and have several major blowups. When Michelle agrees to the "marriage" arrangement for a month, it raises a lot of questions: Does she truly care for Luther? Can she live in the wilderness? Will she stay after the month is over? How long can she keep up her charade?
Deception and trust are two main themes in the book. Michelle is lying to Luther about her past, her true identity, why she's on the run… and Luther is keeping his own secrets from Michelle. When these bombshells are revealed, it nearly tears them apart. Can they ever trust each other completely?
When I wrote the book, I did a lot of research on the setting and what life was like back then (how people lived, what they ate, how they dressed) to contrast Michelle's "city" way of life with Luther's rugged existence.
I also researched trappers, fur traders, and Native American culture of the time and region to build authentic details into Luther's lifestyle. I wanted to pull readers into Luther's world, so they could experience the story and events as Michelle sees them.
And I'm proud to say that I succeeded! One reviewer had this to say:
"This book has the potential to be made into a movie. It took over my life. I ignored everyone and everything. Nothing was going to interrupt my time with Luther. Sigh…Luther, what a dreamy hero. I envied the heroine, Michelle. Loving a Wild Stranger reminded me of the 1970s T.V. show, Grizzly Adams – one of my favorite childhood television shows.
I recommend this book and will be keeping it on my keeper shelf. I was thoroughly entertained throughout the story. I would love to switch places with Michele and spend the rest of my days with Luther if I could. I would recommend reading Loving a Wild Stranger while relaxing by a lake!"
That "Grizzly Adams" feel was exactly what I was going for!
I love Luther and Michelle. They're my "first couple" and no matter how many romances I write, their love story will always have a special place in my heart.
I hope you'll fall in love with them and their story as much as I did. Loving a Wild Stranger is a fun blend of love and adventure in the wilderness.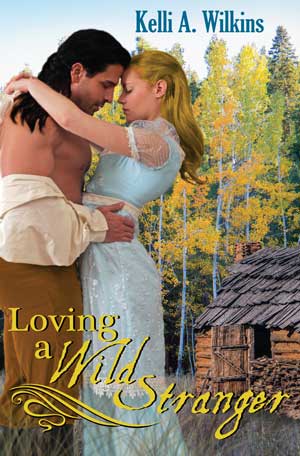 Loving a Wild Stranger
A woman running from her past… straight into the arms of an untamed man

In a moment of desperation, Kathleen Stanton flees her pampered life in Kingston, New York and ends up stranded in a small town in the Michigan Territory. Out of money and forced to rely on her instincts, she impersonates a handsome stranger's mail-order bride.
Committed to her deception, Kathleen calls herself Michelle and starts her new life with Luther in an isolated cabin in the wilderness. Luther can't believe his luck when his beautiful bride arrives, but something doesn't feel right about his new wife. Michelle has terrifying nightmares involving a man named Roger and is reluctant to talk about where she came from.
Luther's friend, Redfeather visits and tries to convince Luther to send Michelle back east. Distrusting Michelle, he warns Luther that his bride is not what she seems. But Luther is in love with Michelle, and he is harboring a secret of his own—one that might force Michelle to reject him when she learns the truth.
Michelle falls in love with Luther and adapts to her new way of life. Together, they face off against brutal townspeople and overcome harsh living conditions. When they finally give in to their desires and agree to become a proper man and wife, a dark figure from Michelle's past resurfaces and threatens to destroy everything.
Order Loving a Wild Stranger here:
I made a Facebook page for my historical romances. Check it out here: https://www.facebook.com/Historical-Romances-by-Kelli-A-Wilkins-1703805359922371/
Read reviews here: https://www.kelliwilkins.com/loving-a-wild-stranger
I hope you enjoyed this look at the making of Loving a Wild Stranger. I welcome comments and questions from readers. Be sure to follow my blog for the latest updates and visit me on social media!
Happy Reading,                                                   
Kelli A. Wilkins
---
ABOUT THE AUTHOR
Kelli A. Wilkins is an award-winning author who has published more than 100 short stories, 20+ romance novels, 7 non-fiction books, and 5 horror ebooks. Her romances span many genres and settings, and she likes to scare readers with her horror stories.
Her non-fiction tale, "The Dog That Wouldn't Bark" recently appeared in the Chicken Soup for the Soul: My Hilarious, Heroic, Human Dog anthology.
She also released two horror shorts, More Than I Bargained For and Silent Sentinel in 2021.
In January 2021, Kelli published Journaling Every Week: 52 Topics to Get You Writing. This fun and innovative guide to journaling is filled with hundreds of thought-provoking prompts designed to get you writing about your feelings and emotions.
Kelli posts on her Facebook author page: https://www.facebook.com/AuthorKelliWilkins and Twitter: www.Twitter.com/KWilkinsauthor.
Visit her website/blog www.KelliWilkins.com for a full title list and to find all her social media links.