JUST RIGHT, the sexy tale of Goldie and the Three Werebears - New from Ellora's Cave!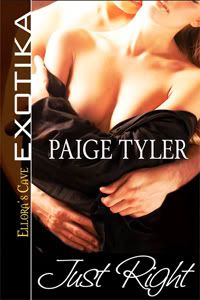 I'm so excited to announce that I have a new book out with Ellora's Cave called Just Right, the sexy tale of Goldie and the Three Werebears.  When I first came up with the idea for the story, it was just that, a very vague idea.  I knew I wanted to write a story about girl who gets spanked by multiple guys, but I wasn't sure what the plot was going to be.  Then, I saw a call for submissions by a publisher looking for a hot, sexy take on traditional fairy tales and an idea immediately began to take shape.  I could take the girl who gets spanked by three guys and turn them into Goldie and the Three Werebears!
Just Right starts out like the original tale, with Goldie getting lost while out hiking in the woods and breaking into a cabin.  That's where the similarity ends, though.  You see the three werebears are so hot and hunky that Goldie, who secretly likes having her bottom warmed, finds herself suggesting they each spank her for her misdeeds.  The guys agree and Goldie ends up getting so turned on that she needs a little sex to make the night complete.  The only question is whether to sleep with one of them, or all of them!  Though I don't want to give the story away and tell you what Goldie does, I will say that this is the first moresome story I've written (hint, hint).  It was definitely a lot of fun to write, so much fun in fact, that I'm definitely going to be writing more of them!
As it turned out, I didn't give Just Right to the publisher who had put out the call for submissions because I was lucky enough to sign with Ellora's Cave in the meantime, so I gave the book to my editor there instead!
Here's a sexy, excerpt from Just Right.  Hope you enjoy it!
The sexy tale of Goldie and the three werebearsWhen Goldie Lockwood gets lost hiking and comes upon an isolated cabin, little does she know it belongs to three hot and hunky werebear brothers. The guys aren't thrilled to discover Goldie ate their food and slept in their beds. Not wanting to go to jail, she suggests the men punish her for her naughty misdeeds—with an arousing round of spanking.
Goldie loves getting spanked and decides that after having her bottom warmed, she needs a little sex to make the night complete. The only question is whether she's going to sleep with one of the brothers—or all of them.
Excerpt:
Still kissing her, Gregory cupped her breasts in his hands and found her nipples with his fingers again. As he twirled and squeezed the sensitive buds, one of his brothers – she wasn't sure which – stepped up behind her and began to massage her ass cheeks with his hands. The feeling of being sandwiched between two rock-hard male bodies made her pussy throb and she was tempted to slide her hand down to touch herself. Before she could give in to the urge, however, a strong hand reached around to cup her sex.
Goldie moaned as fingers found her clit and began to make small circles around it. Whichever brother it was, he certainly knew his way around the female anatomy. The way his hard cock pressed against her ass wasn't half bad, either. Why the heck hadn't she ever made out with three guys before this? Because she'd never met three guys this damn hot before, she told herself.
As Gregory continued to tease and torment her nipples with his fingers, his mouth left hers to trail a path of kisses along the curve of her jaw and down her neck. She tilted her head to the side as much to give Gregory access as to see which brother was working his magic with her clit. Catching a glimpse of dark, wavy hair and a slightly crooked nose, she realized it was the middle brother, Barrett.
"Does that feel good?" he asked, his breath warm and moist against her ear.
She reached up to cup his cheek with one hand as the other found its way into Gregory's silky hair. "Mmm."
"Think I could make you come this way?"
She shivered as he pressed a kiss to the hollow behind her ear. "Why don't we try it and find out?"
Behind her, Barrett chuckled and moved his finger a little faster.  Goldie dropped her hand to rest it on his muscular thigh and began to slowly rotate her hips in time with his finger. From the husky groan he let out, it was obvious he liked the way her ass was rubbing against his cock. She was just wondering if she might be able to make him come all over her freshly spanked cheeks when Gregory took on hand away from her breast to slowly slide it down her stomach and join his brother's between her legs.
[youtube]http://www.youtube.com/watch?v=vtBLt_2TCEU [/youtube]
Buy it from Ellora's Cave!
http://www.jasminejade.com/pm-8035-615-just-right.aspx
For a sneak peek at MR.RIGHT-NOW and GOOD COP, BAD GIRL, my other upcoming releases from Ellora's Cave, visit my website at http://www.paigetylertheauthor.com  Just click on "Coming Soon!"
*hugs*
Paige