Julia London Contemplates the Perfect Hero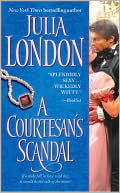 I need a hero.  I need one every time I start writing a new book, and I need one to show up when I hit the sagging middle while drafting that book.  Heroes are not that easy to build.  They have to have all the right ingredients in just the right amounts.  You know, a little bit cocky but not too cocky.  And he has to look right.  No one wants to fantasize about a Bubba. That may seem superficial, but this is romantic fantasy, which means we should get the full monty, the man of our dreams.
Personally, I have a thing for Ioan Gruffudd and I like to start with him as my base model for looks for my historical heroes.  (Note:  Base models are subject to change depending on this writer's whim).
A hero also has to be smart.  We'd not want our heroine explaining things to the hero, like how to saddle a horse, or what important words like destitute mean.  The hero is supposed to know all that stuff and take care of things like being destitute for our heroine.  She doesn't have time for those sorts of details—he needs to handle that in a manner that matches her expectations for living.  Big house.  Lots of servants.  Pretty horses.  In addition, a hero needs to be world-wise.  He should be intuitively smart, possess a good amount of common sense, and be able to apply that common sense to real life problems.  He could be a scientist if he wanted to, but he's not, although he secretly digs the whole science scene.
I think a hero should also have a touch of the Highlander brawn, even if he's not a Highlander.  But a writer has to proceed cautiously here. Think about it:  There was Braveheart, who we all totally wanted to do on the forest floor.  And then there were his sidekicks—remember the giant bear of a guy and the little pipsqueak with all the courage?  They were Highlanders, too.  They did not lack for brawn.  But did you want to do them on the forest floor?  Probably not.  A writer has to tease out the best brawny parts of the Highlander for romantic fantasy and leave the rest to history.
I also like a man who is not afraid to buck the establishment.  A bit of a rogue in a man is always appealing.  He's been there, he's done that, and he has the souvenirs to prove it.  Not unlike Jack Sparrow.  Now, Jack Sparrow was a great character, and I loved him, but he had some characteristics that would not make him the perfect hero—like his teeth, for example.  And his thirst for gin.  But he had that roguish swagger down and an ability to charm anyone who stepped in his path.
Another thing that makes a hero perfect is the willingness to ride to hell and back for the woman he loves.  Be still my heart!  Is there anything sexier than a hero who will put himself in harm's way for me—I mean, the heroine? But we don't want him to get too carried away, do we?  We want him around to share the boudoir and wine with us later, so we need a hero who will take the big risks when necessary, but not take all the risks, all the time.  A dead hero is not a good hero.
Those are the ingredients for my perfect hero, and in the end, I come up with something like this.  Scrumptious, isn't he?
What do you like in a hero?  What do you dislike?  What makes a perfect hero for you?  Who is your base model?