Growing up Italian by guest blogger, Jannine Corti Petska
Ciao tutti! I'm Jannine Corti Petska. Today I'd like to tell you a bit about growing up Italian and how it influenced the stories I write.
My newest release is from Eternal Press. CARINA AND THE NOBLEMAN is the first book in my psychic sisters trilogy. It's set in Northern Italy, 1425, and has an absolutely luscious Italian count. I love setting my stories in medieval Italy because it's a location I'm comfortable with and I know the culture so well.
My father was born on the Italian island of Ponza and is actually half Florentine. (The fleur-de-lys is prevalent in Florence. You'll notice it all over my website.) My mother was Sicilian. Neither spoke English at first. My mom learned when she started school. My dad learned by reading newspapers when he came over from Italy in his twenties. I was born in New York (but live in Southern California) and was always surrounded by Italians. I grew up in an Old World environment.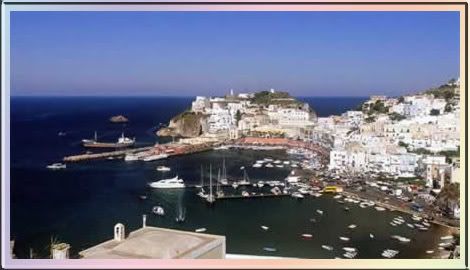 Ponza
Our culture is extremely family oriented–and no, I don't mean the mafia! Back then the children came first, the women stayed home and cooked, and the men brought home the dough so their wives could keep on cooking. There was an abundance of pride, even if there was a shortage of jobs and money was scarce. We survived, taking in family members if necessary. We ate homemade Italian food, drank homemade wine, and thoroughly enjoyed conversation after dinner. In fact, after the table was cleared and the espresso, fruits and cannoli came out, we have been known to sit 3-4 hours talking and laughing.
I really miss those days. My mother, who never learned how to drive, was the epitome of the little ol' Sicilian woman. She was in the kitchen drinking coffee and cooking before I woke up. And she was in the kitchen cleaning up or making lasagna for the next day. My father was a baker, so he worked nights and came home about 6 in the morning. My mother cooked him fish; steak; stuffed peppers; or fried peppers, potatoes and onions; or eggs and potatoes; a meal that was his dinner. I probably had the best breakfast of my classmates at school. I'd sit with him and eat. He'd lay out his moppine (dishtowel) on the table in front of him. His espresso to the left, his wine to the right, and his plate of steaming hot food set in the middle.
I could go on and on about life growing up Italian. There is so much to draw from for my stories. That I could write at all is amazing to me because I had a disadvantage. My parents spoke Italian in the house. My father never learned how to write English, but he could read, although not well. My mom read and wrote, but her English vocabulary was rather limited. At school, I was really shy, and I think it had to do with having very simplistic language skills. Surprisingly, I excelled in English. In fact, it was the only class I received straight As in (P.E. too!).
As you can imagine, it was natural for me to use Italian settings for my romances. And what better country? Italy is one of the most romantic destinations in the world. At first I chose cities where my family was born. Then I spread my geographic boundaries to other Italian cities and regions. Just because I'm Italian doesn't mean I don't do research. I research until my eyes pop. I want my books as historically accurate as possible. Unfortunately, scholars make that difficult at times. There are many aspects of Italian history that historians can't seem to agree upon.
I have promised many that I'd put up my recipe for tiramisu. This is one dessert my family and friends expect me to make at the holidays. In fact, I make it quite often throughout the year.
Tiramisu
6 egg yolks
2 cups white granulated sugar
1 1/2 pounds Mascarpone
2 cups cold espresso
42 lady fingers
1/2 cup unsweetened cocoa.
I often double the first three ingredients to have thicker filling.
1.Beat the egg yolks with the sugar until thick and pale yellow, using the whisk attachment of a mixer. (I do this by hand.)
2.Beat the Mascarpone into the egg yoke mixture until thoroughly blended, smooth and fluffy.
3. Pour the espresso in a shallow container. Dip half of the ladyfingers quickly in the espresso, one at a time, and place them very close together in a 9×13 pan.
4. Spread half the mixture over the ladyfingers.
5. Repeat #s 3 and 4.
6. Dust with the cocoa powder.
Wrap with plastic wrap and refrigerate 6-24 hours.
From experience, you don't want to soak the ladyfingers in the espresso. Your tiramisu will end up soupy.
Below is the cover of my current release, along with a blurb and a very short excerpt. CARINA AND THE NOBLEMAN can be ordered as an ebook through Eternal Press at www.eternalpress.ca. Print book tba.
Take a cruise to my website, if you'd like, at www.jcortipetska.com.
Ciao!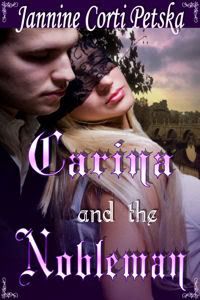 A new historical romance from
Jannine Corti Petska
CARINA AND THE NOBLEMAN
Book One from the Sisters of Destiny Trilogy
Forced to the streets after her mother dies, Carina Gallo is desperate to survive and find her long lost sisters.
Consumed with locating his missing brother, Count Luciano Ruggero has forsaken his needs.
When Luciano catches beautiful and vulnerable Carina stealing from him, he takes pity and cares for her until she's strong enough to work off her crime. Carina is forever grateful to Luciano, yet fears he will learn of her wicked secret and condemn her to burn.
Will Luciano and Carina find a way to feed the mutual passions they share, or will heresy and obsession with lost family destroy them both?
Excerpt:
Carina sighed inwardly, truly amazed by the beautiful sight of her first lover. Count Ruggero's long, well-proportioned legs reminded her of sturdy pillars. Her gaze drifted over the healing wound on his forearm then shifted to the blaze of desire turning his eyes dark gold. A thrill shivered through her body…until their monumental differences returned to afflict her conscience.            "You know not what you are doing, my lord."            "No, angel. I know exactly what I am about to do."            "But you and I cannot. You are a count. I am merely a peasant."            He propped his hands on his hips. "Think you it matters to me?"            "It should, my lord. I am not worthy of your attention, amorous or otherwise."            He showered her with a promising smile and stepped forward to help her remove her chemise. "When you and I are wearing naught, tell me of our differences, save for the obvious."
            All she could do was tremble under his heated gaze.