Because every good witch needs her cat...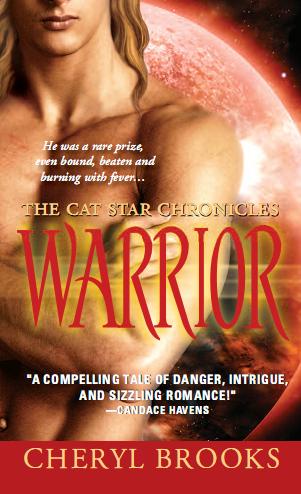 Hello! My name is Cheryl Brooks and I'm very excited about the release of Warrior, the second book in The Cat Star Chronicles series! If you've ever wondered about the journey from original idea to finished novel, read on!
A long time ago, there was science fiction, and there was romance, but the two rarely seemed to entwine. There were hints now and then—I don't know about you, but I've always wanted to disintegrate C3PO for interrupting Han & Leia's romantic interlude in The Empire Strikes Back—but it was never quite what I was looking for, and since I couldn't find it anywhere, I started writing it. I had the best of intentions, but my nursing career and family came first, and with some truly awful typing skills to slow me down, it was never finished. Later on, equipped with a computer instead of a typewriter, the writing bug bit me again and I managed to complete three novels. My fellow nurses seemed to enjoy them, but publishers were uninterested, and my writing career once again came to a screeching halt.
Since then, I've tried other creative outlets, none of which were quite as satisfying, but about four years ago, I began writing contemporary romances about ordinary people who find extraordinary romance. I enjoyed writing them, and my buddies loved reading them, but my attempts to find an agent were unsuccessful. I submitted a few manuscripts here and there, but soon came to the conclusion that a published author had to die before a new one could take her place!
During that time, a friend gave me a book about a woman who had to pose as a slave to a dominant male. It came close to being the sci-fi romance I'd always envisioned, but all I could think of while reading it was how much more fun would it be if the slave was a man! Then I played the 'what if' game. What if that slave was a soldier captured and sold into slavery? What if he was the last of an alien species whose males were so irresistible to women that other men set out to destroy them? From there I let my imagination run wild to create Cat, an alien slave with feline traits and sexual abilities far beyond those of ordinary men. To complement this purring tiger, I created Captain Jacinth "Jack" Rutland, a tough-talking, independent space trader on a rescue mission. In desperate need of a man she can trust with her life, she buys Cat, frees him, and The Cat Star Chronicles adventure began!
Slave might have been the science fiction romance I'd always wanted to write, but I didn't expect much when I mailed it to Sourcebooks editor Deb Werksman. I'd sent out a few other manuscripts at roughly the same time, so when my husband told me that a publisher had called, I wasn't sure which book he was talking about! The fact that Deb liked it well enough to ask for a series is something I still have a hard time believing, but the second book, Warrior, was released in early October and features Tisana, a witch with the power to control fire and communicate telepathically with animals. She is a gifted healer, but when her former lover, Rafe, brings his battered new slave to her for treatment, Tisana meets Leo, an alien hero whose sensuous nature overwhelms her cautious heart. When Rafe's sons disappear, the chance for Leo to earn his freedom sends them on a harrowing adventure filled with danger, exciting swordfights, hilarious animals, and sizzling romance!
I've done so many exciting new things since this journey began, including setting up a website and exploring the mysterious world of the blog—something I'd never even heard of a year ago! I've gotten to know a lot of interesting people and picked up a little publishing jargon, but the most important lesson I've learned is that the sale of a book is only the beginning. Seeing the cover of Slave for the first time was probably even more thrilling than getting the contract, because I thought: "Yes, this is really going to happen!" When I actually held the book in my hand for the first time, I felt an indescribable sense of accomplishment, and when I found my first fan letter tucked in among some very ordinary emails, I was overwhelmed!
Since then, I've received many wonderful comments from readers, and I want to thank you all from the bottom of my heart! I might have written Slave for myself, but the fact that others can also enjoy it makes me happier than I can ever express. I now have readers who have read both Slave and Warrior and are anxiously awaiting future books, which is fabulous! Now, when I type in "Cheryl Brooks" on Amazon, THREE books come up, and when my author's copies of Warrior arrived, I thought, yes, this really IS happening!
I'd like to take this opportunity to send out my most sincere thanks to all of my readers, and I hope they continue to enjoy the rest of The Cat Star Chronicles series!
Cheryl Brooks
Here's a little teaser for you:
I dragged the pallet out from beneath my bed and took the blankets outside to shake the worst of the dust from them. I hadn't had anyone remain in my care for quite some time now, and it would be strange having someone there with me again. I'd grown so used to the solitude; just the sound of another person's breathing would be an intrusion.
The first step would be to burn the rags he was wearing and wash him, for he smelled of filth, sweat, and sickness. There was some festering infection there, perhaps on his skin, perhaps in his lungs, or perhaps both. Wherever it was, I could smell it, and knew it for what it was. I rolled him over onto his stomach to undress him, unfastening the cords at his neck and waist before I did so. The best I could tell, he had no broken bones, but I could feel the fever in him even through the rough fabric of his tunic.
As I began to strip the clothing from his body, the stench was so strong, I decided that washing him before even laying him on the pallet would be the best course. Peeling his tunic from a back criss-crossed with sores—presumably lashes from a whip—I considered it fortunate for him that he was unconscious.
I rolled up the rug that covered a place in the floor where the spaces between the boards were open and, after tossing his shirt into the fire, drenched his upper body with hot, soapy water, which steamed with the aroma of the herbs, letting it run down through the boards in the floor. I'd done this before with others, as no doubt all of my ancestors had done. I distinctly remembered my mother doing it with one woman she had cared for, and she'd cautioned me to never fill in the chinks in the floor, but to cover them with the rug, instead, to keep out the drafts.
The man had long, light brown hair which, if clean, might have hung in attractive spirals, but was now little more than a matted rat's nest and was undoubtedly infested with vermin. I had a cure for that, and though it might have been simpler to shave his head. I didn't do it, simply because the thought of cutting such luxuriant locks appalled me . Combing out his tangles would take a considerable amount of time, but it would give me something to do while I sat with him. I washed his hair with a strong soap and then worked oils of rosemary, lavender, and geranium into it, which would kill any parasites harbored there. After washing his back and applying a soothing comfrey and sage ointment, I covered it with a clean cloth before rolling him over.
Rafe had said he was cat-like, but I'd had no idea what to expect. His ears were pointed—that much I had seen when I did his hair—but he had other feline characteristics, as well. Upon examining the inside of his mouth, I discovered surprisingly strong, white—and extremely sharp—teeth, with fang-like canines. He had full lips, a prominent nose, and golden brows which swept gracefully upward toward his temples. With some trepidation, I lifted an eyelid to reveal an eye which shone forth with a soft glow through a vertical slit of a pupil, surrounded by an iris that put me in mind of the uneven landscape of an old gold coin.
As I washed the grime from his face, I noted that he seemed to have no beard whatsoever—not even a stubble—and found old scars along with several more recent scrapes and bruises. What could he possibly have done to deserve such punishment? I began to fear what dangers might lurk within him when he awakened. If he chose to escape, I had no doubt that he could overpower me when he recovered, for his chest and arms were well-muscled, though not with the heavy power Rafe possessed. No, this man's muscles were hard, but leaner and more sinewy, like those of a hunting cat, and even covered with scabs and bruises, he looked strong.
Having treated the wounds on his chest, I undressed his lower body—and got the surprise of my life!
 Any ideas as to the nature of that surprise?