A Trail of Love by Bess McBride
Comments Off

on A Trail of Love by Bess McBride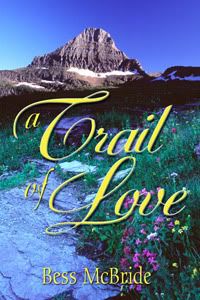 And look at this cover by Angela Anderson.  Isn't it fabulous?
A Trail of Love is my third published romance novel with The Wild Rose Press who have been veddy, veddy good to me.  This one was inspired by my…then…upcoming gig as a park ranger at Glacier National Park last year.  I wrote several chapters before I actually arrived at the park but ended up putting it on hold for the summer due to edits on other books.  And I'm glad I did.  It's much better for my having actually spent some time in the park and around bear rangers.  Little do they know, they're all featured in my book as a composite of my hero, Dace!  🙂  Since I'm still actually working at the park this summer, I wave at them with a huge anonymous pseudonymly grin, knowing they're all handsome heroes…at least "in my book," they are!  🙂
Book Trailer:
http://www.youtube.com/watch?v=TONFALG3rmU

BLURB:
Kerrie is on the run from a painful past, and she hides in plain sight as a summer employee in the majestic setting of Glacier National Park.  Lonely and isolated from the family and friends she left behind, she dreams of the day when a kind and gentle man will say to her:  "I fell in love with you the first time I saw you across the room."
Dace Mitchell could be that man!  The handsome bear ranger rescues Kerrie from her own foolish behavior–more than once–and she finds herself drawn to him against her will…until she discovers he's already involved with someone else.
When Kerrie begins to get mysterious silent phone calls, it seems the past has caught up to her.  Can Dace save her from a violent man who will stop at nothing to have her?
EXCERPT:
A moose!  Baby mooses!  Was that the right word?  Kerrie had never seen moose before in real life.  They were magnificent!  The dark brown mother so tall, her long stick-like legs seemingly incapable of bearing her great weight.  The dark blonde youngsters, though lighter in color and smaller in scale, were perfect mirror images of their mother.
She turned to face an approaching vehicle, casting a last glance over her shoulder to make sure the moose cow and her calves did not reenter the road.
A large silver truck pulled up to the kiosk and Kerrie wished she could have slid down to the floor of her booth.  The driver was Dace and he wore the same Smokey Bear hat as she, except as one of those outdoorsy men, it looked so much better on him.  He worked for the Park Service.  Her summer had just gotten much, much longer.
Kerrie's heart tapped an excited rhythm against her chest.  If this was any indication of what the summer promised, her hiding place suddenly looked a lot like Paradise.
Dace cleaned off the battery posts and reattached the cables.  He got back in the truck and turned the ignition over.  The truck started right up.  Kerrie was sure she actually heard it purring under his care.
Dace unfolded his long legs from the small truck and got out.  "There you go," he said with a grin as Kerrie kept her distance.
"Thank you, Dace.  I really appreciate your help.  I should get one of those gizmos so I don't have to stand by my dead truck like a helpless female."
His eyebrows shot up, and he tilted his head inquiringly.  "I doubt you're helpless.  I've discovered you women are pretty handy when you need to be. Goodnight, Kerrie."
Dace climbed in his truck and watched Kerrie pull out of the parking lot.  Her taillights disappeared into the night.  What was with that woman?  For that matter, what was with him?  He had better things to do than stalk an unwilling female.  Didn't he?  A vision of his sterile, lonely apartment in government housing popped into view.  Okay, so maybe he didn't have anything better to do.
Still, there was something in those beautiful brown eyes of hers that compelled him. Loneliness was turning him into a hopeless romantic, for Pete's sake. Every now and then, he caught her looking at him with an expression of…  What was it?  Longing?  Dace bit his lower lip.  If anything, Kerrie acted like she would be happy to see the last of him.  For the most part.
He smiled at the last thought.  There was something about her, and he wasn't going to be satisfied until he knew what it was…or she gave him firm marching orders.  With a sigh, he pondered the night ahead, hoping he would be able to get some sleep…though that seemed unlikely.  Images of the silky dark curls of a complicated woman had been interrupting his sleep for the past few nights.
Buy Link: 

Bess McBride, www.bessmcbride.com, www.rvromance.com