A Sigh of Love by Bess McBride!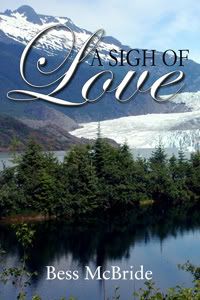 She's back!
A Sigh of Love was contracted two weeks after my first book, Love of My Heart, by the same house but a different editor.  It's a contemporary romance set in Alaska, and is "inspired" by a true story…all the way up to the romance.  All characters are a figment of my imagination and bear no resemblance…really!  🙂
One of the great things about writing romances is that we I get to rewrite history occasionally. Not "that" kind of history, but the significant happenings in my own little world.  This book was one of those moments.  So, the memory of traveling around Alaska for an entire week talking to myself in a video camera has now transformed itself into a wonderful romance with a happy ending!!  🙂  Yay fiction!!
Book trailer:

http://www.youtube.com/watch?v=DXy4muhI0kE

Blurb:  Abbie is on her way to Anchorage, Alaska to meet George whom she has been corresponding by telephone for the past three months. George has repeatedly asked her to come up to Alaska for a visit so they can meet in person. Call her crazy, but Abbie makes airline reservations to fly from her home in Seattle up to Anchorage to meet George. She's lonely. Why shouldn't she make a mad romantic dash up to the last frontier to meet a man? She'll just ignore the practicality and logistics of a long-distance relationship. When she calls George to let him know her arrival time, he chooses that awful moment to let Abbie know that he thinks they don't have much in common after all and she should cancel her plane reservations. Abbie is stunned, humiliated and ashamed of the lonely desperation that drove her to make nonrefundable airline reservations to Alaska.
What to do? Abbie decides to go to Alaska anyway. A grouchy and depressed Abbie meets Tom on the plane, a tall, handsome anthropology professor who happens to be half Native Alaskan and half Caucasian. As the plane flies north, Tom and Abbie discover a mutual attraction. By flight's end, Abbie is completely enamored of the stranger, and she doubts her judgment, perhaps even her sanity, as she finds herself falling again for yet another Alaskan male…until George shows up, that is.
Excerpt:  Abbie shoved her carryon bag under the seat in front of her as far as it would go. She had the aisle all to herself, and she fervently hoped that the two seats next to her would remain empty. She was in no mood for casual airplane chitchat. From her seat, she could see down the length of the plane, and it appeared as if most of the passengers had already boarded and seated themselves.
Good, she thought with satisfaction stretching her legs out in front of her and placing her paperback on the seat next to her. What kind of idiot takes an 8 p.m. flight to Anchorage, Alaska, in September anyway? She leaned her head back and closed her eyes. Besides me.
Abbie let loose a sigh which began deep within her soul. It came out louder than she planned, and she hoped no one else on the quiet plane heard the understated groan. She opened her eyes and found a tall man standing in the aisle next to her seat. Startled, she blinked and met a pair of almond-shaped, obsidian eyes that crinkled at the corners. His friendly smile widened to a grin.
"May I?" he asked, indicating the window seat past her.
"Oh, sure." Abbie quickly scrambled out of her seat and stepped into the aisle to allow him to pass. She caught her breath when he slid past her to take his seat. His face was strikingly handsome. Exotic eyes were the prominent feature in an angular bronze face with a narrow nose and full lips.
As the plane rolled onto the runway, Abbie leaned her head back and closed her eyes for a moment. It wasn't too late. She could still jump up and ask the attendants to stop the plane and let her off. She smiled imagining the scene. Would they open the doors and let her out onto the runway to trudge back to the terminal on foot? Would they take the airplane back to the terminal and boot her out the door—forbidden ever to book a flight with them again? A quiet hysterical giggle escaped her wayward lips. Or would they force her to inexorably march on and continue the flight to Anchorage against her will?
Buy Links:
Bess McBride, www.bessmcbride.com, www.rvromance.com