A Deceptive Match by Kelli A. Wilkins: Behind the Scenes
Comments Off

on A Deceptive Match by Kelli A. Wilkins: Behind the Scenes
Behind the Scenes: A Deceptive Match (A Wrestling Romance) by Kelli A. Wilkins
This "Behind the Scenes" blog is part of a series examining my romance novels. In each blog, I'll talk about why I wrote the book, share my thoughts on the plot and/or characters, and reveal what I loved most (or least) about writing the book. Warning: Blogs may contain spoilers.
---
Behind the Scenes: A Deceptive Match (A Wrestling Romance)
by Kelli A. Wilkins
This "Behind the Scenes" blog is part of a series examining my romance novels. In each blog, I'll talk about why I wrote the book, share my thoughts on the plot and/or characters, and reveal what I loved most (or least) about writing the book. Warning: Blogs may contain spoilers.
A Deceptive Match is my contemporary romance set in the world of professional wrestling. Watching wrestling has been a tradition in my family for generations (all the way back to my great-grandmother), so I wasn't entirely surprised when I got the idea to write a wrestling romance. Nowadays, wrestling is more popular than ever, and I'm glad it's getting the attention it deserves.
I took my knowledge of the wrestling world (the good, the bad, and the controversial) and used it as the base for the story. As I considered various plots, I decided the premise would be: a reporter spends a month on the road with wrestlers and writes an in-depth story on the business. The catch? The reporter is a woman named Danni (short for Danielle) and she's matched up with an uncooperative wrestler named Vinnie Valentine.
Vinnie is forced into this arrangement by his greedy, manipulative boss, Nick August. Vinnie is recovering from a knee injury and is at a crossroads in his career. Nick isn't subtle about taking away Vin's championship belt (and his livelihood) if the magazine story doesn't go well.
And so begins a long and hot summer where Danni and Vin are on the road together, traveling from hotel to hotel and arena to arena. If you've ever spent time in a car with someone you don't get along with, you can imagine the conflict between these two characters! Things get off to a bad start, and Vin isn't thrilled to play "babysitter" to a woman reporter because he knows it will ruin his reputation with the other wrestlers.
Danni is out of her element and forced to adapt to a world she knows nothing about. Her own insecurities and worries make the situation even worse and she inadvertently causes lots of trouble for Vin. As the book progresses, Danni gets a first-hand look at how the wrestling industry works, from what goes on backstage to how the wrestlers interact with each other, the fans, and their egotistical boss.
And this wouldn't be a romance without some heat, right? Although Danni calls Vin an arrogant caveman, she finds him attractive. Despite his best intentions, Vin finds himself drawn to Danni, but he is hesitant to get involved with her. They're both carrying lots of baggage from bad past relationships and fight the desire they feel for each other.
I don't want to give away too much of the plot or share too many spoilers, but over the course of the summer Vin and Danni open up to each other and realize they have more in common than they once thought. Danni comes to Vin's rescue on a few occasions and even finds herself in the center of a wrestling storyline. Vin uses his charm and humor to break through Danni's aloof exterior, and they begin a very heated and passionate affair.
I know wrestling isn't a "traditional" sport like baseball or football, and when I wrote the book I realized that romance readers might not understand—or even like—wrestling. So I used my knowledge of the wrestling world as way to show Danni (and readers) "the ropes" of the business.
Since Danni's a reporter, she asks a lot of questions, and Vin gives her easy-to-understand answers. These details help readers who know nothing about wrestling follow along with the terminology and let them visualize the action as it takes place in the ring.
A Deceptive Match also introduces readers to Vin's best friend, Everett Kinkade. Ev is Vin's former tag team partner, and he appears as a prominent secondary character. Ev offers advice to Vin and Danni and plays counselor (and matchmaker) when the need arises.
Ev has the reputation of a ladies' man and he's the hunky wrestling heartthrob all women dream about—but he's hiding a big secret. I fell in love with Ev while writing the book and decided he needed his own story, so I wrote A Secret Match. (I'll talk about the book in another blog.) A Secret Match is not a sequel to A Deceptive Match per se, but it features the same wrestling world and has lots of crossover characters, including Vin and Danni.
A Deceptive Match is one of my favorite books. I loved creating the conflict between Vin and Danni and showing how hurt and vulnerable each of them are. And I had fun writing the wrestling scenes! A reader told me you "could see the action taking place on the page and feel the excitement and adrenaline." Those are great compliments—especially from a non-wrestling fan.
A Deceptive Match received great reviews and I'm happy that readers love the book. It's got everything a good wrestling storyline needs: heroes, heels, action, drama, humor, betrayal, suspense—and in this case—hot love scenes. I hope you'll check it out and fall for Danni and Vin as hard as I did.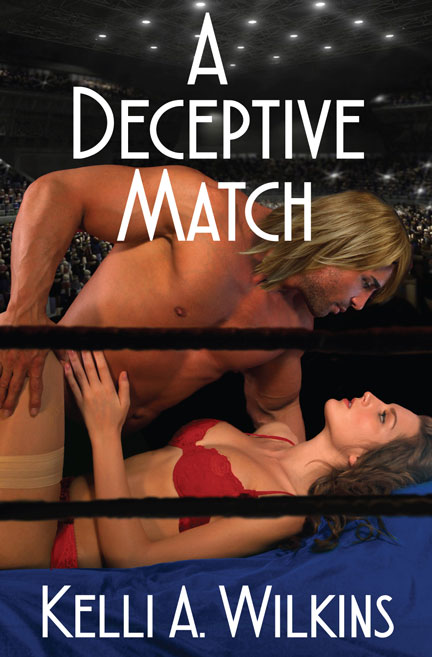 A Deceptive Match

Falling for the wrestler she had been assigned to interview wasn't part of Danni's plan, until Vinnie Valentine pinned her heart in a flash.

Disgruntled with her job as the office assistant for a national sports magazine, Danni Stone impersonates a reporter to prove herself to her boss. Her assignment? Spend thirty days on the road with Vinnie Valentine, a sexy professional wrestler.
Life isn't going well for the Heavyweight Champ. Vinnie is struggling with a manipulative boss, prepping for the most important match of his career, and feuding with his arch-enemy, Thorn. The last thing he needs is a nosy reporter following him around—even if she is hot.
Thrown together in close quarters, Danni can't help falling for Vinnie, and she unwittingly becomes a key player in his title match. Their mutual attraction grows, and late one night, they give in to the lustful feelings they've been fighting.
As their relationship deepens, Danni considers telling Vinnie her secret. But before she can confess the truth, Vinnie discovers she isn't the reporter she claims to be. Her lie threatens to ruin everything between them. Will their relationship be destroyed by her deception or will their love win out?
Order A Deceptive Match here:
Don't miss the follow-up book, A Secret Match:
I hope you enjoyed this "Behind the Scenes" look at the making of this spicy romance. I welcome questions and comments from readers and other authors. Contact me via the form on my site or on social media.
Happy Reading,
Kelli A. Wilkins
---
ABOUT THE AUTHOR
Kelli A. Wilkins is an award-winning author who has published more than 100 short stories, 20 romance novels, 7 non-fiction books, and 3 horror ebooks. Her romances span many genres and settings, and she likes to scare readers with her horror stories.
Kelli released Journaling Every Week: 52 Topics to Get You Writing in early 2021. This fun and innovative guide to journaling is filled with hundreds of thought-provoking prompts designed to get you writing about your feelings and emotions.
In 2020 Kelli published Love, Lies & Redemption, a western romance set in 1877 Nebraska. This novel blends a sensual love story with mystery and danger.
Kelli posts on her Facebook author page: https://www.facebook.com/AuthorKelliWilkins and Twitter: www.Twitter.com/KWilkinsauthor.
Visit her website/blog www.KelliWilkins.com for a full title list and to find all her social media links.