We hope. I mean, who wants to see that, right?
But I'll write about it. It's all part of this special project I'm doing that has gotten slightly out of hand. You see, my new book, Immortally Yours, takes place in and around a paranormal MASH unit during a great supernatural war.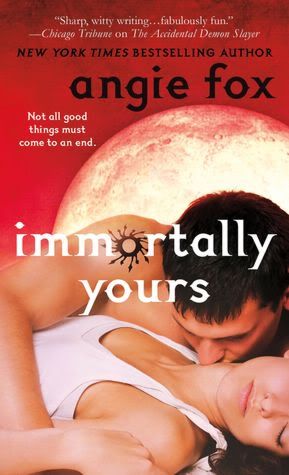 While the book mainly focuses around the hero, who is a tough-as-nails special ops soldier, and the heroine, who is a combat surgeon, I also needed to include a world beyond the quirky MASH camp.
Besides, the characters need to get their news, right? So PNN is the supernatural version of CNN, with a few exceptions. Sure, PNN can be a little sensationalistic, with articles like: "Mayan Insider Scoop! Developed Armageddon "Prophecy" After Tequila Bender" and "Five Things in Your Lair That Can Kill You." But I figured it's a good way to offer up good information as well.
In fact, I've created an entire website for PNN. It's a fun way for readers to experience first-hand kind of world I've created, and it could also help you win a signed copy of Immortally Yours from the Romance Junkies.
To enter, just check out www.PNN-Network.com, then post the title of your favorite article below!
Angie Fox is the New York Times bestselling author of several books about vampires, werewolves and things that go bump in the night. She is best known for her Accidental Demon Slayer urban fantasy series. She is also writing a series about a group of paranormal M*A*S*H surgeons. The first book in the Monster MASH trilogy, Immortally Yours, is out now. The second book, Immortally Embraced, releases in February 2013.
Immortally Yours is available on Amazon, Barnes & Noble and at your favorite independent bookseller.
Visit Angie online, on Facebook and on Twitter!