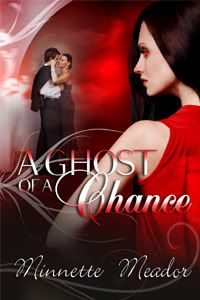 By Minnette Meador
"Keenan was used to living with hundreds of people. He no longer felt crowded, talked to himself, or went to therapists. Not that he liked it, mind you; given half a chance, he would have buried them all…" A GHOST OF A CHANCE (Resplendence Publishing – June 2011)
Those words were the beginning of a journey that led me into strange supernatural realms and introduced me to demons, entities, angels, and yes, many ghosts. Why did I go there? Because I used to live with a very real, very funny ghost of my own; we called him Marvin.
I was living with my two infant sons, my 3-year-old, a lovely roommate, and her little girl in the bottom half of a duplex in Portland, Oregon. It was the year of Reagonomics and a tough time in my life. I was a single mom struggling to stay afloat.
After my twins were born, things started happening that we couldn't explain; the TV would go on in the middle of the night when all of us were in bed. Things would fly off counters and crash to the floor. But the strangest of all happened about two months later.
We began to lose belts. And not just belts; scarves, ropes, loose electrical cords, and even shoes from time to time. Blaming the kids would have been easy, except for the fact that they lived in the nursery and didn't have access to such things. During one frustrating search, late for work, Sarah finally came out to me, her face pale.
"I found your belt," she said quietly.
"Great! Where was it?"
She held up the limp leather and said, "Under my mattress."
"How did it…" But then we both headed for our respective bedrooms and lifted each mattress gingerly. Low and behold, there were the missing items. We knew we had an uninvited guest.
Marvin was actually a very polite ghost. Although he didn't like belts of any kind (and tennis shoes for some reason) he quit throwing things at us in the kitchen and settled down to just watching TV late at night. He didn't like men, apparently, because every time one would come over, he'd run upstairs to our neighbor's place. I'd get a call…
"You have a man down there?" she would ask.
"Uh, yeah. Sorry about that."
"It's okay. Just checking."
We learned to live with him… and to keep our belts hidden.
Don't forget, if you leave a comment you will be in a drawing for several wonderful prizes throughout my blog tour, including 2 Kindles, special Portland/Oregon Totes, jewelry, goodies, and lots more. Also, I have some "secret" giveaways throughout my blog tour for a chance to fin $25 GC from Amazon. Make sure to watch for them in all the blogs I'll be visiting this month. For a list, go to: MINNETTE'S TOUR.
In the meantime, I hope you'll check out my new book A Ghost of a Chance. It's full of ghosts, angels, demons, and one slightly used psychic who goes through a comedy of disasters to find his heart's desire.
A GHOST OF A CHANCE – Excerpt
a paranormal romantic comedy
(Book I in the Ghost Series)
by Minnette Meador
RELEASE DATE: JUNE 22, 2011
Resplendence Publishing
Keenan Swanson is your typical, everyday graphic designer. Well, except for the hundreds of pesky, prank-loving poltergeists that make his life interesting (in a Chinese curse sort of way). He finds his situation precarious yet manageable—until witty, smoking-hot coworker Isabella enters the scene and Keenan decides he wants her all for himself. With a horny succubus who has other ideas, a burly city cop determined to lock Keenan away, and an evil entity who's hell-bent on using Keenan's seed to create a living demon, the reluctant psychic realizes he just might not come out of this alive—or with heart intact.
"Hysterical and very original!"
2-Time Rita Winner Wendy Warren